Keeping track of time is really important to most experiments. In PsychoPy there are many useful clocks that live "under the hood", which we can use in our experiment:
Making custom clocks
If we want to use a custom clock (e.g. to measure the time across several routines) we can always make a clock within a code component:
Note
In the current release (2021.2.3) if we are working online we will need to change our code component "type" to be "Both" and use myClock = util.Clock() on the JS side.
Adding a timer to your experiment
Now that we know how to make a clock and how to access the time on it, we can easily add a timer to our experiment to show our participant how far into a trial, or the experiment they are.
Add a text component to your trial routine and position it in the top right corner (in height units you will want something like pos = (0.4,0.4). Then in the text field all we need is to write $t and set every frame.
Note
Depending on your PsychoPy version you might need to use t - omitting the dollar sign. Remember that you only need a $ at the start of a field if there is not already a $ int he parameter name.
The properties of the text component should look like this: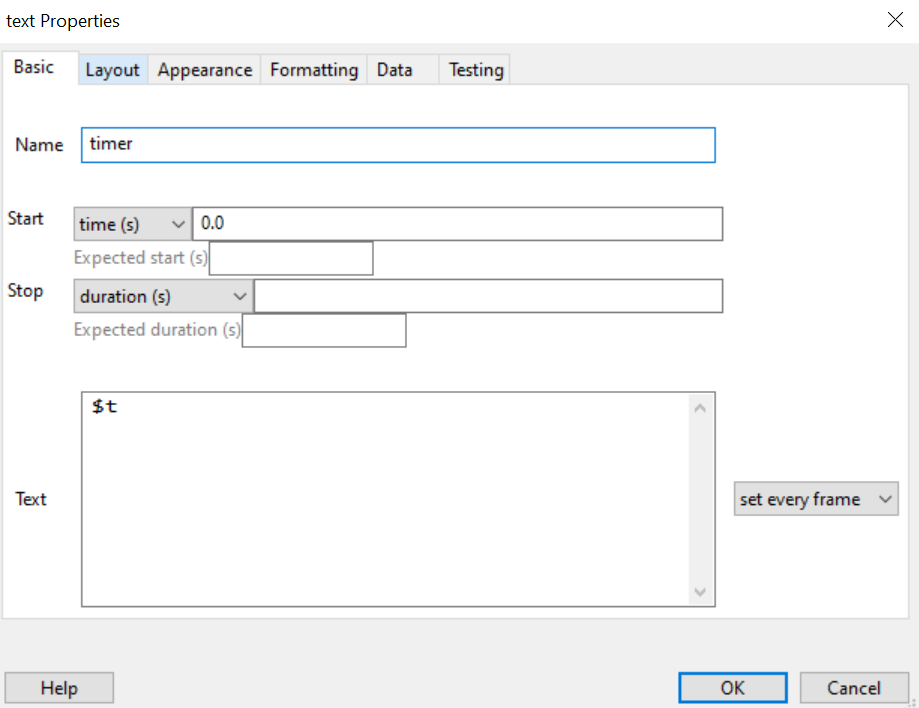 OK now you should have a timer to show participants how far through a trial they are!! If you wanted to show them how far into the experiment they are you could add a code component and in the Begin Experiment tab write expClock = core.Clock(). Then in your text component replace t with expClock.getTime().