Creating Experiments in PsychoPy (3 days)
About
Info
| Date | Timezone | Registration link |
| --- | --- | --- |
| Jan 26th-28th | US East Coast | |
These sessions are designed to build confidence creating experiments and getting them online, as well as start learning the basics of python programming. We can be quite flexible with what we cover in these sessions but we keep to some broad themes to facilitate most attendees. Typically the timetable with appear as follows: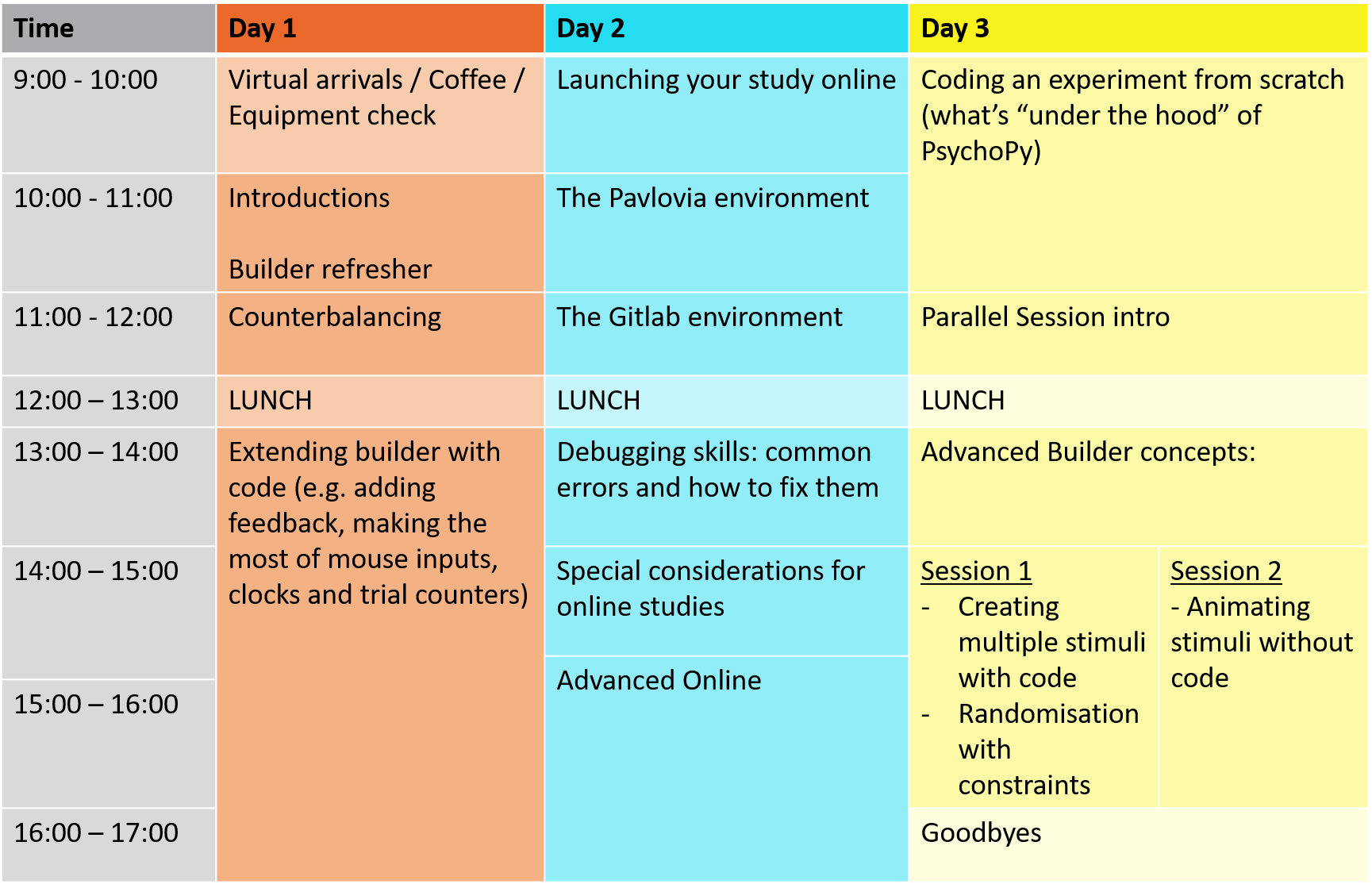 Note that on day 3 we are currently trialling parallel sessions; Advanced Builder and Pure Python. We hope that there will be a bit of something for everyone and several experience levels!
What do I need to know in advance?
The only base knowledge we will assume for this workshop can be learned from this 15 minute video .
What technology and/or software will I need to make the most of the workshops?
You will need to download a recent version of PsychoPy and register for a free pavlovia.org account to follow along with the tasks we create in the workshop. If you have access to two monitors that can be beneficial, although not essential.
We run the workshops using a combination of zoom and slack. The slack channel is designed to encourage interaction throughout and provides a few benefits:
This provides a location to ask questions throughout (for those apprehensive to use the mic).

Questions are monitored by other PsychoPy team members, meaning you can get feedback from the whole team.

The conversations are archived, so you can come back to the answers to yours and others questions later.
How can I purchase tickets?
Tickets can be purchased from the Pavlovia store
Materials
All of our materials are openly available in web page (links below) or and HTML slide format.
You can also download and unzip a range of pre-made demos that we work from.
Accessibility
We are aware that online teaching via zoom can raise accessibility issues and we want to ensure everyone gets the training they need. If you have special requirements or want to arrange one-to-one training please contact us directly at workshops@opensciencetools.org
Day 1: Building Better Experiments
Day 2: Taking experiments online with Pavlovia
Day 3: Coding Experiments
Day 3: Parallel sessions
Python focus - for those wanting to learn more advanced coding concepts for general use:
Experiment focus - for those wanting to learn more advanced tips with Builder for experiment creation:
General Python Syntax
Python focus - for those wanting to learn more advanced coding concepts for general use:
Back to top